04.05.2021
Lactoferrin - An endogenous, multifunctional glycoprotein of vital importance
Lactoferrin (lacteus – milk, ferrum – iron) is a protein from the group of transferrins. Transferrins are glycoproteins that transport iron ions into the cell.
What all transferrins have in common is that, after releasing the iron ions, they return "empty" to the surface of the cell, where they are available for new transport tasks. Lactoferrin has a number of additional physical properties that other transferrins do not have. For example, lactoferrin retains (binds) iron, even under conditions with very low pH, and has a surface that is positively charged and performs other bioactive functions. These differences make lactoferrin one of the most active health-promoting molecules in the human body1). It can therefore be said that lactoferrin not only binds iron, but is a very essential factor in the regulation of iron balance and storage in our body.
Lactoferrin in the focus of science
Particularly over the last ten years, research has repeatedly confirmed the vital importance of lactoferrin - not only as a transporter and regulator of iron metabolism, but for maintaining the health of the human body in many other ways.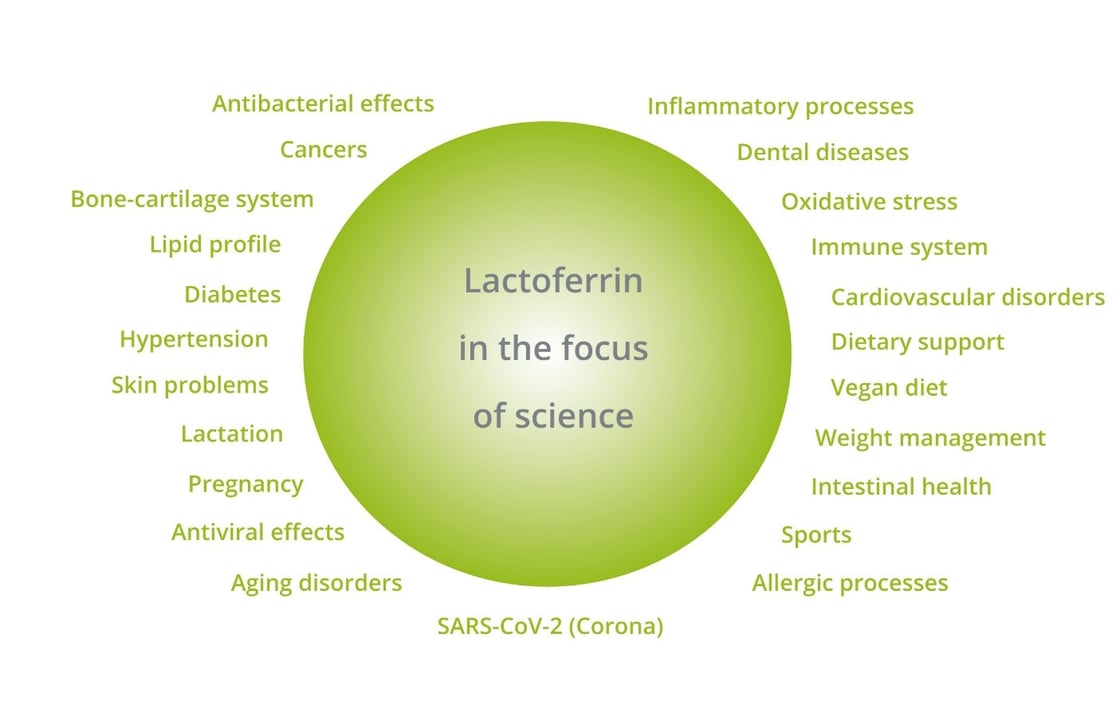 Studies on the topics mentioned here are available and can be requested.
Lactoferrin in breast milk provided
initial findings
Lactoferrin, as is known today, is found in many bodily fluids, including tears, saliva and, most importantly, breast milk. Lactoferrin is also found in sweat, from which it can be concluded that athletes probably have a particularly high need for this glycoprotein.
Breast milk produced in the first few days, known as colostrum, provided the first insights into the important properties of lactoferrin. This is because, in addition to a high quantity of immunoglobulins, 580 mh of lactoferrin per 100 ml is found in colostrum - an extremely high quantity. It has long been proven that breast milk and a long period of breastfeeding have an extremely positive effect on the health of children. This leads to the realization that mothers have a high need for lactoferrin during pregnancy and breastfeeding.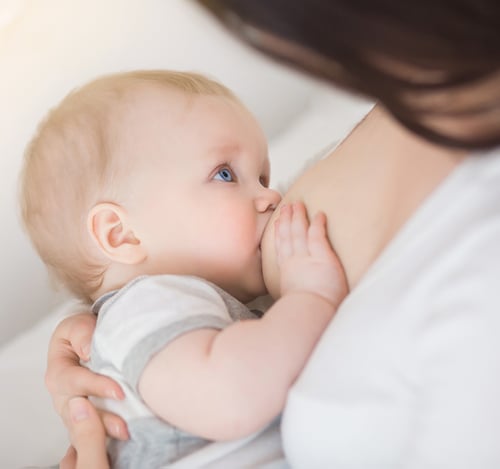 Antibacterial, antiviral and anti-inflammatory properties, as well as effects that protect against Corona, are also regarded as proven.
Lactoferrin deprives pathogenic bacteria of the iron they need to survive and thus has an antibacterial effect. Research has also been conducted regarding how lactoferrin deprives the pathogen Haemophilus influenzae, a facultative anaerobic and capnophilic pathogenic bacterium of the Pasteurellaceae family, of the ability to colonize host cells. Lactoferrin also impairs the Type III secretion system of bacteria of the Shigella and Escherichia coli strains and thus combats these pathogens that cause dysentery and diarrhea. As early as 2001, lactoferrin was also shown to help activate the so-called T-helper cells in leukemia and to suppress HIV-1 infections2). In a meta-study published in 2016 by the Central European Journal of Sport Sciences and Medicine, the authors concluded that lactoferrin, with its anti-bacterial and anti-inflammatory activities, has a positive effect in the treatment of infections and inflammations3). Scientists have found out in a very recent study4) that lactoferrin occupies part of the receptors used by the Covid-19 virus to dock with host cells in the human body. Thus providing a limited protective effect against SARS-CoV-2 (Corona).
Lactoferrin offers and requires a broad dosage spectrum
In view of the multifunctional properties of the glycoprotein lactoferrin, it is not only appropriate, but in fact necessary, to consider a wide variety of dosage forms. We list here some of the possibilities that exist due to the diversity of properties:
Food supplements

Sports nutrition

Baby food

Toothpaste

Health-promoting chewing gum

Cosmetics

Functional Food
Lactoferrin from Vivatis
Lactoferrin from Vivatis is free from LPS (LipoPolySaccharides) and it is obtained from raw milk in a proprietary freeze drying process, thus preserving the structure and functionality of the milk proteins to ensure multi-functional biological activity of the molecules. We recommend encapsulating lactoferrin in an enteric-coated form. Of course, we provide comprehensive advice and offer lactoferrin both as a pure raw material and in every production stage up to the finished product.
Sources:
1) Lactoferrin and transferrin: Functional variations on a common structural framework Authors: Edward N Baker, Heather M Baker, and Richard D Kidd, Biochemistry and Cell Biology, 1 February 2002 • https://doi.org/10.1139/o01-153
2) Moriuchi M, Moriuchi H: A milk protein lactoferrin enhances human T cell leukemia virus type I and sup presses HIV-1 infection. In: J. Immunol. 166, Nr. 6, März 2001, S. 4231–6. PMID 11238676
3) Grzegorz Trybek, el.al. , The Biological Properties of Lactoferrin, Pomeranian Medical University in Szczecin, Department of Oral Surgery
4) Protective Effects of Lactoferrin against SARS-CoV-2 Infection in Vitro, Claudio Salaris el.al. , 23.01.2021