06.05.2021
12 hours of vitamin C protection: New findings are changing the way we see this most important of all vitamins.
Although the human body itself cannot produce Vitamin C, it performs a large number of tasks that are essential for maintaining health and physiological functions.
Paramount in this regard is the immune defense, which cannot be maintained by the body without a sufficient supply of Vitamin C.

Numerous studies1) also indicate positive effects, such as in cancers. The Pharmazeutische Zeitung of 12 May 2019 reports in detail on this under the headline "Classic in a new light". In connection with the research on cancer therapy described in this publication, it has been found, among other things, that the human body rapidly degrades Vitamin C and excretes it via the kidneys. It was determined that the half-life of the Vitamin C plasma level in the people that were studied was only about two hours. This finding has led to a completely new view of Vitamin C administration. Accordingly, the decisive factor in achieving a consistent Vitamin C concentration is a dosing procedure that makes it possible for the specific plasma level to be kept constant.
Other studies2) also show that a constant plasma level is the basic prerequisite for ensuring that Vitamin C can develop its effect properly in the body. The Potsdam nutritional scientists Professor Dr. Burkhard Kleuser3), for example, states that the body's own transport system for Vitamin C is saturated at about 200 mg of Vitamin C and that anything above this level will be excreted.
C-Fence, a Vitamin C that meets the requirements of the latest studies
The findings of these studies, among others, led directly to the development of C-Fence, a completely redesigned Vitamin C raw material that is precisely targeted to provide the optimum dose of 500mg/12hours that has been established for the human body.
At the same time, in the development of C-Fence, new findings regarding the differences between Vitamin C obtained from high-quality ascorbic acid and Vitamin C obtained from ascorbate salts were taken into account. In vitro studies have shown that Vitamin C obtained from ascorbic acid has greater stability than Vitamin C from ascorbate salts. This allows for that C-Fence can easily be made useable by the body in the gastro intestinal tract. C-Fence is a raw material that contains microencapsulated Vitamin C of high purity. The microcapsules break down in a timed sequence in the intestines and guarantee precisely the maximum absorption of Vitamin C over a period of 12 hours, and thus optimum utilization in the body (see illustration). This information has been verified and may be used accordingly.

Of course, the development of C-Fence, also took into account the fact that within the administration of the dose for the next 12 hours, no excess amounts of vitamin C are created. The microcapsules of the C-Fence carrier system are therefore designed to release only as much vitamin C as the body can absorb in total during the transition between two doses.
C-Fence has been prepared for cost-efficient further processing into tablets using the direct compression process. Vivatis is also happy to supply C-Fence at any other stage of production, up to the finished branded product.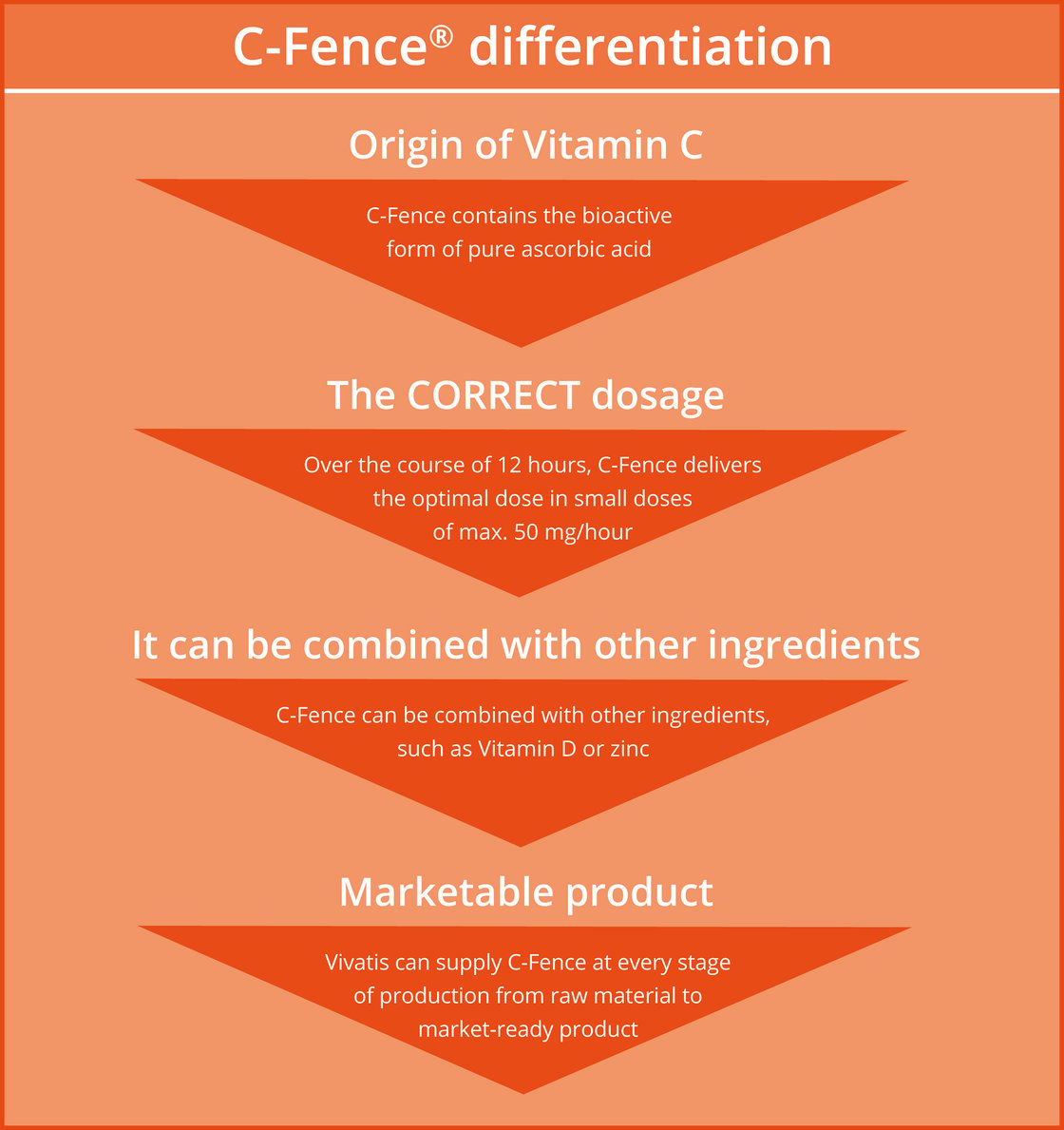 Sources:
1) NIH National Cancer Institute: https://www.cancer.gov/research/key-initiatives/ras/ras-central/
blog/2020/yun-cantley-vitamin-c
2) Padayatty Sebastian J et al. Vitamin C physiology: the known and the unknown and Goldilocks.
Oral Dis. 2016
3) https://www.uni-potsdam.de/de/nachrichten/detail/2020-06-23-portal-2306-hilft-vitamin-c-gegen-krebs-der-potsdamer-uni-professor-burkhard-kleus
Studies on the topics mentioned here are available and can be provided upon request.